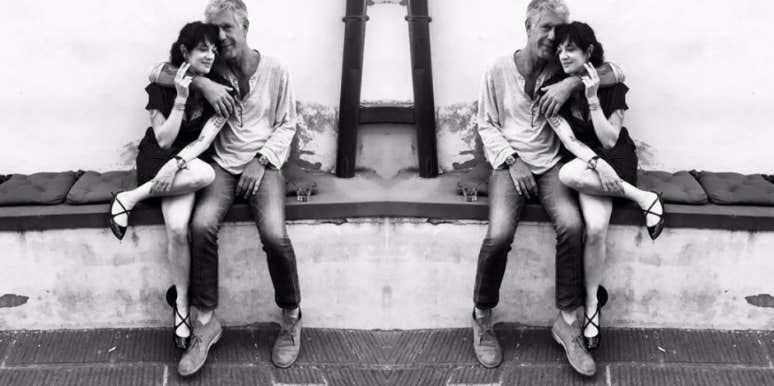 The two met while filming Parts Unknown.
Who is Anthony Bourdain's girlfriend? Anthony Bourdain has passed away at the age of 61. Fans and foodies alike are reeling, grief-stricken with the sudden passing of such a legend. Many chefs credit him with changing their lives and truly shaping their goal of working in the food industry.
According to CNN
, the cause of death was suicide by hanging. While filming in France for his award-winning series,
Parts Unknown
, his close friend, Eric Ripert, discovered his body in his hotel room.
Bourdain would travel the world and seek out lesser-known places, exploring different cuisines and cultures. He also had another show on the Travel Channel called
No Reservations
. Before this, he released two books:
Don't Eat Before Reading This
in 1999, and
Kitchen Confidential: Adventures in the Culinary Underbelly
in 2000, the latter of which skyrocketed him to fame.
The chef leaves behind a daughter, as well as his ex-wife who is the the mother of his child, and a girlfriend. But who is Anthony Bourdain's girlfriend? Here's what you need to know about Asia Argento.
1. She and Bourdain have been dating since early 2017.
The two met after Argento appeared on
Parts Unknown
. They confirmed their relationship in February 2017 to
People
and it appears Bourdain was completely smitten with her.
In a separate interview
, he said, "She's a really accomplished director and writer, along with being a longtime
actress and a real sponge for culture, music, literature. So she's enormously helpful and inspiring."
2. She's an Italian actress, writer, director, author, and singer.
Argento began acting at age 9 and when she was 18, she starred in her father's film,
Trauma
. In 1994 and 1996, she received the David di Donatello, which is the Italian version of an Academy Award. In 2000, she wrote and directed her first film,
Scarlet Diva
, her second,
The Heart is Deceitful Above All Things
, in 2004, and her third,
Misunderstood
, in 2014. She has also appeared on screen opposite Vin Diesel in
xXx
in 2002.
She wrote her first novel,
I Love You Kirk
, in 1999 and also released her debut album, "Total Entropy," in 2013.
3. She was once agoraphobic.
While writing
Scarlet Diva
, Argento said
she didn't leave her apartment for months
.
4. She grew up with an absent father.
As one might expect, she doesn't have a close relationship with him. He wasn't around when she was a kid and therefore didn't have a happy childhood.
5. She has two children.
She has one child, a daughter named Anna Lou who was born in 2001, with Italian musician Marco Castoldi. She's named after her half-sister, Anna Ceroli, who passed away in a motorcycle accident. Argento gave birth to her second daughter, Nicole Giovanni, in 2008, with ex-husband Michele Civetta.
6. She was one of the first women to make allegations against Harvey Weinstein.
In an
October 2017 article in the New Yorker
, Argento accused Weinstein of forcibly performing oral sex on her in 1997, which he, of course, denies. She also said she had consensual sex with him multiple times over a five-year period.
In May 2018, she delivered a speech at the Cannes festival, saying she was raped by Weinstein at age 21 in Cannes and referred to the festival as a "hunting ground" for him.
7. Bourdain was extremely supportive of her.
He penned a heated essay in
Medium
in December 2017 about the allegations toward men in Hollywood:
"In these current circumstances, one must pick a side. I stand unhesitatingly and unwaveringly with the women. Not out of virtue, or integrity, or high moral outrage  —  as much as I'd like to say so  —  but because late in life, I met one extraordinary woman with a particularly awful story to tell, who introduced me to other extraordinary women with equally awful stories. I am grateful to them for their courage, and inspired by them. That doesn't make me any more enlightened than any other man who has begun listening and paying attention. It does makes me, I hope, slightly less stupid.
Right now, nothing else matters but women's stories of what it's like in the industry I have loved and celebrated for nearly 30 years  —  and our willingness, as human beings, citizens, men and women alike, to hear them out, fully, and in a way that other women can feel secure enough, and have faith enough that they, too, can tell their stories.
We are clearly at a long overdue moment in history where everyone, good hearted or not, will HAVE to look at themselves, the part they played in the past, the things they've seen, ignored, accepted as normal, or simply missed — and consider what side of history they want to be on in the future..."
Bourdain also tweeted his support of Argento:
And during
an interview with IndieWire last June
, he praised her acceptance speech at Cannes, saying, "I was so proud of her. It was absolutely fearless to walk right into the lion's den and say what she said, the way she said it. It was an incredibly powerful moment. I am honored to know someone who has the strength and fearlessness to do something like that."