Zinedine Zidane has resigned from his position as Real Madrid coach.
The French coach decided to throw in the towel after winning an unprecedented third consecutive Champions League trophy last weekend.
Zinedine Zidane
Zidane is one of the only three managers, along with Carlo Ancelotti and Bob Paisely, to have won the UEFA European Cup three times having guided Real Madrid to Champions League glory in 2016, 2017 and 2018.
Zidane, 45, told a news conference at the Bernabeu Stadium he had "taken the decision not to continue next year."
Real Madrid president Florentino Perez was on Thursday present alongside Zidane when the announcement was made. Zidane who took charge of the club in January 2016.
He leaves having guided the Spanish club to three successive Champions League titles and one La Liga success.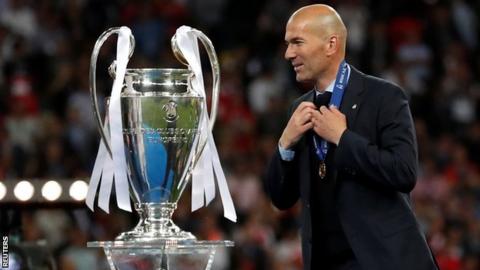 Zidane stands down five days after Champions League win
Zinedine Zidane says he is stepping down as Real Madrid boss, five days after leading them to a third straight Champions League triumph, claiming the club needs "a different voice".
Zidane told a news conference that "everything changes" and "that's why I took this decision".
He leaves having guided the Spanish club to three successive Champions League titles and one La Liga success since taking over in January 2016.
"I love this club," he added.
"What I think is that this team needs to continue winning but I think it needs a change, a different voice, another methodology. And that's why I took this decision."
Zidane, 45, took over after Rafael Benitez was sacked and was in charge for 149 games. He steered
Real to 104 wins and 29 draws, had 69.8% win rate, and won nine trophies.
He
said in February
that he would walk away if he felt "there is nothing more to give".
However, the timing of his announcement still came as a shock just days after Real beat Liverpool 3-1 in the Champions League final.
"It's a strange moment to do so, I know, but an important one too," he added on Thursday. "I had to do this for everyone.
Real are looking for their fourth manager in five years.
Tottenham boss Mauricio Pochettino has been linked with Real in the past. The Argentine signed a new
five-year contract
at Spurs last week.
Juventus boss Massimiliano Allegri could also come into the frame, while Arsene Wenger wants to carry on in management after leaving Arsenal after 22 years in charge.
Italian Maurizio Sarri, most recently of Napoli, is also available.
The decision on who will next manage Real will be made by club president Florentino Perez.
He accompanied Zidane at the news conference and said he wanted to keep the France 1998 World Cup winner.
"This was a totally unexpected decision. Zidane informed me of his choice yesterday," added Perez.
Zindane's exit comes after Gareth Bale and Cristiano Ronaldo revealed they were contemplating their futures at the club.
Wales forward Bale was unhappy at being named as a substitute against Liverpool while Ronaldo said after the game he will soon make an announcement about his future.
Asked if his decision was anything to do with Ronaldo, Zidane said: "No."
More to follow.