The protest demanding the resignation of President Muhammadu Buhari on Wednesday gathered momentum with Aisha Yesufu, co-convener of the Bring Back Our Girls (BBOG) movement and Jim Iyke, popular Nollywood actor, joining the protesters.
The protesters, who began their sit-in at Unity Fountain, Abuja, on Monday, are demanding that Buhari return to the country or resign.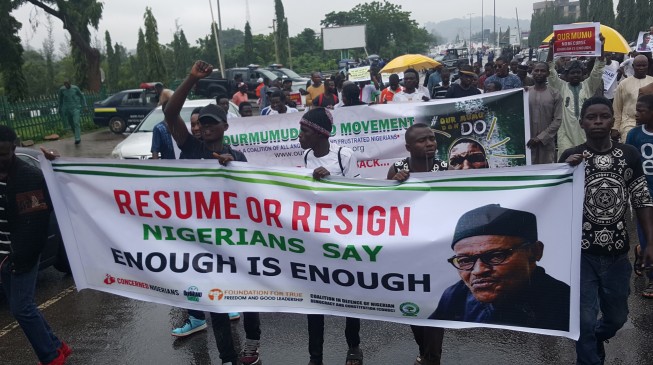 The president has been receiving medical attention in the United Kingdom since May 7 when he left the country.
On Tuesday, the police clamped down on the protesters, alleging that hoodlums had infiltrated the group.
But speaking to journalists on Wednesday, Charles Oputa, popular musician, better known as Charly Boy, said the group would not be deterred despite the clamp down.
He described the police' action as "sad, very wrong and disgraceful."
Oputa also alleged that the action of the security agencies was being controlled by some "cabal."
"We also use the press in a positive way, that was what turned against them. That was why they came out in full force yesterday because they were overwhelmed with the turnout," he said.
"I know that all of this is being controlled by the people who have captured the power, they tell them (the police) what to do and this is the evil we are up against."
The rights activist also said that contrary to insinuations, the group has nothing against the president.
"We have nothing against Buhari, as far as we are concerned, he seems to be an honourable person but it is this cabal around him," he added.
"Remember one time, his wife was crying out [about the cabal], this is exactly what she was trying to tell Nigerians."
Similarly, Jim Iyke also justified the group's call for the president to return to the country or resign.
He said the group would remain united in their cause "no matter what happens."
"Enough is enough. It is a simple thing, our mantra is one, our decision is one," he said.
"Unequivocally, we are saying that the president either resumes or resigns. It is natural when you get old, you shift and let the young ones take over."
Aisha Yesufu, who is joining the group for the first time, had also
asked the president to resign
earlier in May.
A strong critic of the Buhari-led administration, Yesufu had said nothing was working in Nigeria with an acting president piloting the nation's affairs.
According to her, "when are we going to realise that this acting president thing is not working out, it's really not working out?" she asked.
"Things are stagnating in Nigeria, for crying out loud, the president is sick, the president is not capable of discharging his duty as president, why can't he resign."
Meanwhile, Buhari's handlers have since condemned the protest, insisting that the president had done nothing wrong.
The senate had also described the protest as unjustifiable, adding that the president had not gone against the law in any way.