Hon Sunday Karimi did not hide his disdain for the alleged way the APC is handling affairs especially in Kogi state. - He asked the APC and its governor in the state, Yahaya Bello, to get ready to move out of the Lor Lugard House in 2019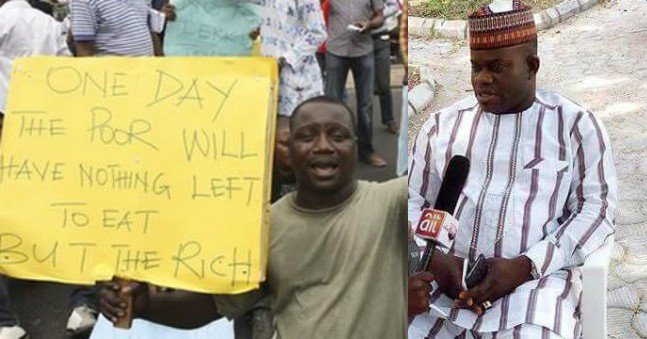 The ruling All Progressives Congress (APC) is seriously unleashing pains and suffering on the people of Kogi and Nigeria, a member of the House of Representatives for Yagba federal constituency of Kogi state has declared.
Karimi made the allegation on Monday, July 31, declaring that the APC does not deserve to remain in power in the state beyond 2019. The Nigerian Tribune reports that Karimi asked the party and the governor of Kogi state, Yahaya Bello, to get set to vacate the Government House as they would be defeated.
The lawmaker said the suffering masses already inflicted with poverty were set to vote him out of office in 2019. Speaking at a meeting of stakeholders of the Peoples Democratic Party (PDP), Kogi West senatorial district, held at the residence of a former Secretary to Kogi state Government, Hon Musa Ahmadu, Karimi said the current suffering in the state was unprecedented.
According to him, the level of suffering in the state had made the people become beggars and should be source of worry to well-meaning residents of the state. Claiming that the PDP would take over
power in the state in 2019, the lawmaker reportedly lamented the plight of workers in the state. He noted that the workers had not been paid their salaries, the pensioners are owed several months of pension, while the living standard of the citizens in the state is a cause for worry.
He said the meeting was to educate members of the developments in the party and to be ready to chase the APC out of the Lugard House.
It was earlier reported that the Kogi state police command said it had foiled an attempt to kidnap a member of the state House of Assembly, Honourable Moses Ododo, by a gang of kidnappers. A statement issued in Lokoja on Tuesday, July 25, by the state police command, said two members of the kidnap gang were arrested on Monday, July 24, in the process of collecting N3 million ransom from Ododo.